DATE: 23-26 October 2022
LOCATION: The Venetian Resort Las Vegas
Venetian & Palazzo Resorts
3355 Las Vegas Boulevard South
Las Vegas, NV 89109, US

Polymath is at Booth 4310
‍(Ontario Canada Delegation booth, close to Food Hall North)
Polymath is pleased to be sponsoring Money20/20 this year! We are excited to participate with the Ontario Government at the Ontario Canada Delegation booth (Booth 4310, close to Food Hall North), along with our fellow Ontarians innovating in the fintech space: Ascendant, Boss Insights, DIGTL Markets, Engage People Inc. and Horizn. We will be able to demonstrate our new Polymath Capital Platform in person for the first time!
‍
JOIN POLYMATH AT MONEY20/20
We want to hear about what you are working on:
>>> Come and see us at Booth 4310 (Ontario Canada Delegation booth, close to Food Hall North)
>>> See a demo of our NEW Polymath Capital Platform in action
>>> Meet with one of our experts to explore how you can get the most out of your asset digitization or tokenization efforts — our team is well versed not only on our platform, but also experienced in fintech, tokenization, capital markets, defi, blockchain and more:
Vince Kadar, CEO, Polymath
Brian Sawyer, Director Product Strategy, Polymath
Christian Pettigrew, Senior Product Manager, Polymath


BOOK A DEMO OR DISCUSSION TIME — JUST FOR YOU!
If you know you are attending Money20/20 this year, why not book your preferred time to meet with us?
Please view our calendar to book the time that suits you best — we will see you then!

‍
What you can expect from Money20/20:
Money20/20 was founded by payments and fintech veterans from Google, TSYS and Citi. They broke the stereotypes anchored in snoozefest business conferences, and designed an unparalleled experience built for the industry, by the industry. With payments at the core, they have consistently united the entire fintech community to shape what's next.
‍
>>> 8000+ attendees
>>> 2800+ leading companies
>>> 150+ Registered media and analysts
>>> 24% C-Suite executives and founders
>>> 17 M+ media impressions

This is the place where the entire fintech and financial services industry unite — the entire money ecosystem is in attendance at Money20/20: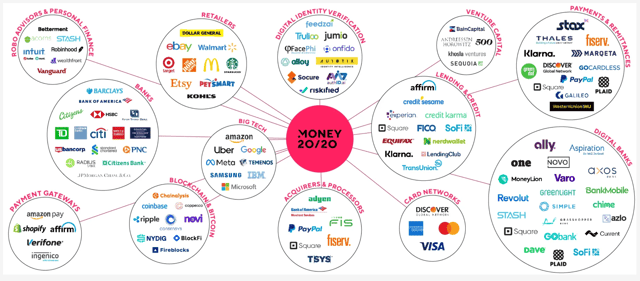 Money20/20 Agenda
Money20/20 USA has always been at the forefront of fintech insights and this year the agenda will focus on stories told through four distinct lenses — vulnerability, defense and offense, chain reactions, and experiences:
Money20/20 AGENDA INTRO 2022
‍
Check out the very comprehensive agenda in advance of the show to maximize your time at the event:
Money20/20 FULL AGENDA 2022
About Polymath
Polymath makes smart digital investments easy — all in one platform. One institutional-grade platform to digitize real-world assets represented as security tokens and operated through smart contracts. From creating an offer, setting up yield strategy and process, token issuance, assembling an expert team, to attracting investors, managing your current and future digital portfolios, exposure to key ecosystems, and ultimately, opening up businesses for growth. With its established legacy in developing Polymesh, an institutional-grade open-source blockchain built specifically for regulated assets, Polymath is rooted in technical expertise and is a leader in the new era in fintech and defi, helping businesses build on their success. Polymath corporate headquarters are located in Toronto, ON Canada, with employees and customers around the globe.