Anonymity is a key principle of many blockchains, but this ethos makes it very difficult to meet compliance requirements around identity verification and to fulfill Know-Your-Customer (KYC) obligations.
Polymath spent some time with Julian Leitloff, CEO of Fractal, to talk about how we should be approaching identity on the blockchain, why customer onboarding is so important, and the challenges in delivering a low-friction investor onboarding experience while getting hold of the required information.
Fractal's KYC/AML verification software is used to onboard users to the Polymesh blockchain.
Polymath (P): What do customers today expect from an onboarding process?
Julian Leitloff (JL): Joining a new ecosystem is much like discovering a new world. Some might remember the AOL CD that introduced the internet. That was a brilliant marketing strategy: a clear offer—in this case free internet—conveniently delivered directly to your door. Onboarding needs to suit the person being onboarded. Convenience plays a big role, but also trust. Is my data secure? Is this a legitimate provider?
Companies can lose up to 50% of their prospects through a bad onboarding experience, but convenience and conversion need to be balanced with compliance requirements for data collection and verification.
P: Why is user growth so expensive for fintechs?
JL: Attention isn't scarce online, but personal data (about preferences and interests) is. It's a data treasure for ad companies and drives up targeting costs. As a result, gaining new users is extremely expensive.
On the one hand, we need to find solutions that put users in the driver seat, and let them decide if they want their data available for targeting and in what capacity. But regardless of the model, companies paying to find and attract prospects, can't afford to lose them at the finish line.
P: What challenges do fintech companies have in delivering on customer expectations?
JL: If you greet a new customer in your store you wouldn't start by asking for their passport information — but this is the reality for fintech companies. Unlike many other business verticals, fintechs need their customer to go through an often comprehensive identity verification check before converting. So how can you make this process as pleasant as possible?
Data scarcity is an important factor: how can I ask as little as possible from the user while getting what I need? In an ideal world, we'd only check what's important to us and then forget it right away. Fortunately, a lot of the checks that need to be conducted are pass or fail, which allows us to check the data and transcribe what's needed to chain, without ever storing anything sensitive.
P: Most blockchains were built for pseudonymity. How does that fit with identity verification requirements baked into the broader financial system?
JL: Imagine going to a bar in your early 20s—it's a real-world example of a pseudonymous system. You are being asked to flash your ID card, but only the necessary information is checked. The bouncer doesn't take a copy of your ID and very likely forgets you five minutes later. If you're over the age limit you can pass. This filter is what society thinks should be in place. In a decentralized identity system, you can even avoid being checked a second time and store your data on your own wallet, just like your ID.
Onboarding is the first touchpoint with your business. People extrapolate information to paint a picture of the service: Is it trustworthy? Is it fun to use? The slightest sign that the answer is 'no' will factor into their decision to give it a try or leave the process.
---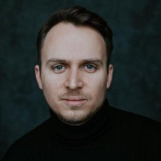 Julian Leitloff, CEO, Fractal
Julian Leitloff started his first company at 22 and led it to its first million dollars in revenue and onto the Forbes 30 Under 30 list. He is now the co-founder and CEO at Fractal, building an open-source protocol enabling decentralized authentication.
Disclaimer - All views expressed or claims made above solely belong to Julian Leitloff and do not reflect those of Polymath. Polymath does not endorse or recommend any product or service provided, or to be provided, by Julian Leitloff or Fractal.
The information in this document does not purport to be complete and has not been independently verified. Polymath gives no undertaking, and is under no obligation, to update this document or provide any additional information or to correct any inaccuracies which may become apparent.